Exhibition
All That Glitters (2022)
This exhibition takes its cue from the aphorism "All that Glitters is not Gold". The dazzling works in this exhibition use embellishments of glitter and gold to question notions of value. These contemporary artists celebrate what is often deemed to be of lesser worth than money, success, or power. They examine the weight of inheritance. They illustrate the importance of human contact, chosen family, and hope in dark times.
Photographic works from Mikael Owunna's Infinite Essence series illuminate the black body as eternal cosmologies, while collaborators Steven Frost and Frankie Toan use denim and glittery embellishments to celebrate queer chosen family. Samantha Wall's slippery yet impeccably rendered gold drawings on Duralar remind us of the complicated importance of human connection. Yvette Molina's paintings envision new deities and affirmations for a tumultuous world. Using remnants of a broken glass windshield in her jewelry, Tracey Beale attests to the beauty of transformation rather than the preciousness attributed to materials such as gold or gemstones.
Curated by Erika Diamond. Artists: Steven Frost and Frankie Toan, Mikael Owunna, Samantha Wall, Yvette Molina, Tracey Beale
June 26 - August 07
Fowler-Kellogg Art Center | First Floor Galleries and the Angela Fowler Memorial Gallery | Opening reception June 26, 3-5pm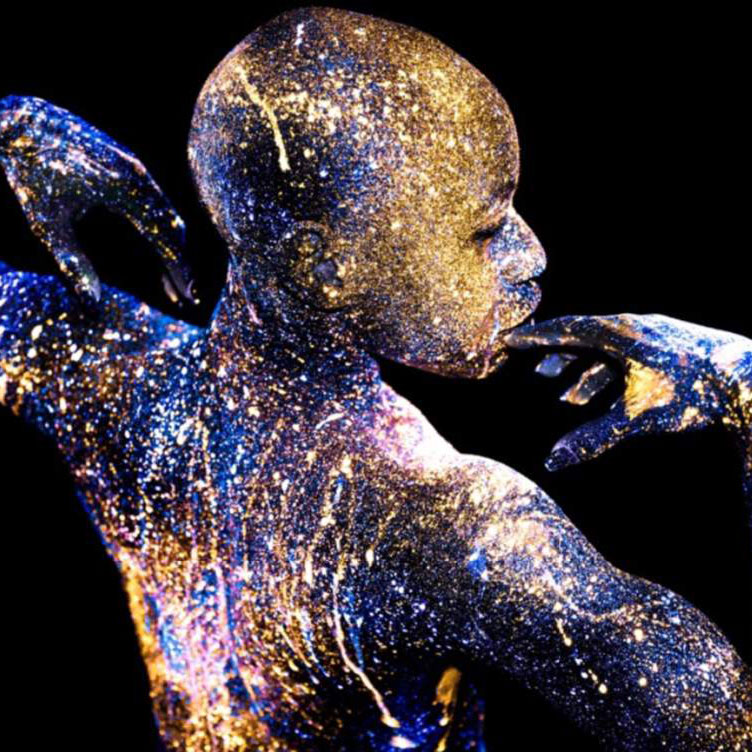 Contact Us
For inquiries, comments, and acquisitions, please feel free to contact us any time. We welcome your input and conversation.