Liberace's Pool
No Longer Available
Medium
Pom - Poms, Sequins and pins on pink foam
Dimensions
24" x 18"
Description
Steven Frost has created sculptures, paintings, performances, clothing, and weavings inspired by Liberace since 2014. Much of his research was inspired by an essay by the late art critic, Dave Hickey. In his essay, A Rhinestone As Big As The Ritz, he writes, "He [Liberace] demonstrated... the power of subversive theatricality to make manifest attitudes about sex and race and politics that could not be explicitly avowed." He describes Liberace playing with pearls, glitter, and femininity to subvert the contemporary understanding of masculinity.
Frost's Liberace-inspired weavings are made of thrifted yarn, strands of pearls, and tool-dipped mini-disco balls (among other materials). All of which the artist says represent Liberace's closeted but flamboyant version of queerness. While Liberace died decades ago, Frost's work imagines a now-retired Liberace living in Palm Springs, California making each of these compositions as a way to pass the time and use up pieces of his old wardrobe. 
About this Artist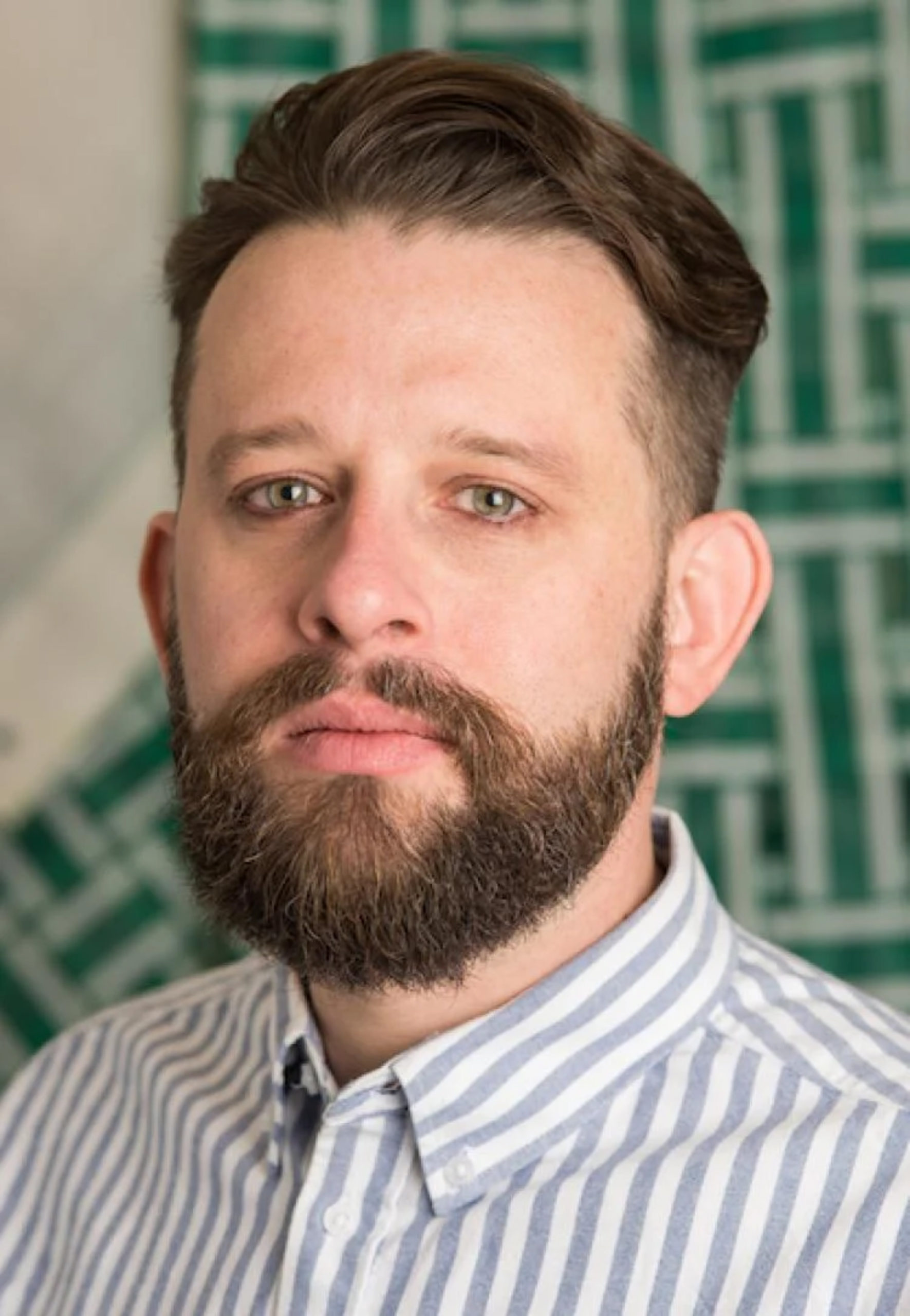 Steven Frost
Steven Frost (pronouns: they/them) is an assistant professor in the Department of Media Studies at the University of Colorado Boulder. They are an interdisciplinary fiber artist, and the Faculty Director of the B2 Center for Media, Arts, and Performance at the Roser Atlas Institute. Their research focuses on textiles, memes, queer history, pop culture, and community development in DIY spaces and libraries. In their work, they often use textiles — these material's associations with the body and garments evoke tactile memories. Using weaving, Frost combines traditional materials like yarn and cotton with non-traditional materials from a range of sources, exploring the ways history and time are embedded in materials.     Frost has been featured in solo and two-person exhibitions at the Boulder Museum of Contemporary Art (Boulder, CO), CU Boulder Art Museum (Boulder, CO), Platte Forum Gallery (Denver, CO), The Store Room (Denver, CO), Robert Bills Contemporary (Chicago, IL), Coop…
View Full Artist Bio
Contact Us
For inquiries, comments, and acquisitions, please feel free to contact us any time. We welcome your input and conversation.