Chautauqua Visual Arts Galleries
The mission of the CVA Galleries is a commitment to introduce our audience to artwork that is inclusive, inventive, and created by professional and emerging artists. We also focus on building strong relationships and conversations with collectors, art enthusiasts, curators and those new to contemporary art, resulting in a universal support of artists both financially and professionally. The CVA Galleries show a wide range of art from around the country, including museum quality exhibitions, regional members group exhibitions, and the CVA School of Art residency artists.
Chautauqua Visual Arts strives to be an incubator for some of the most talented working artists today, while encouraging others to discover their craft. As an extension of our exhibitions, we offer experiences for engagement with artists, critical dialogue, education, and consultation for collectors, as we share their stories through daily exchanges. Lectures, docent tours, class visits from the CVA School of Art, and interviews with artists and curators are also offered. The galleries are a place to educate and inspire our growing audience on the importance of appreciating and living with art, while exploring an artist's vision and practice.
Our Gallery Offerings
Educate & Inspire
Explore the available artwork and get to know the talented artists behind the work.
About the CVA Galleries
Situated on the indigenous lands of the Haudenosaunee, CVA Galleries facilities include Strohl Art Center, Fowler-Kellogg Art Center, and the Melvin Johnson Sculpture Garden. Strohl Art Center, located at 33 Wythe Avenue, is a contemporary space with 6,000 square feet of white walls, hardwood floors, and high ceilings which includes the Gallo Family Galleries, Bellowe Family Galleries, and Strohl's Main Gallery. Just outside of Strohl, the Melvin Johnson Sculpture Garden presents sculpture and installations by several contemporary artists on a rotating basis every summer. Built in 1889, Fowler-Kellogg Art Center (formerly Anne M. Kellogg Memorial Hall) is a restored Queen Anne-style two story building with coffered wooden ceilings and Brazilian cherry hardwood floors. It sits at the corner of Pratt and Ramble and has 3,600 square feet of gallery space. The building was renovated in 2009 and includes the Main Gallery and Angela Fowler Memorial Gallery on the first floor, as well as the Jim and Mimi Gallo Gallery, Joan L. and Robert K. Rich Gallery, and Leon and Gloria Plevin Gallery on the second Floor. During the summer season, the CVA Galleries and The Gallery Store are open Mon-Fri 11am-5pm and Sat & Sun 1-5pm.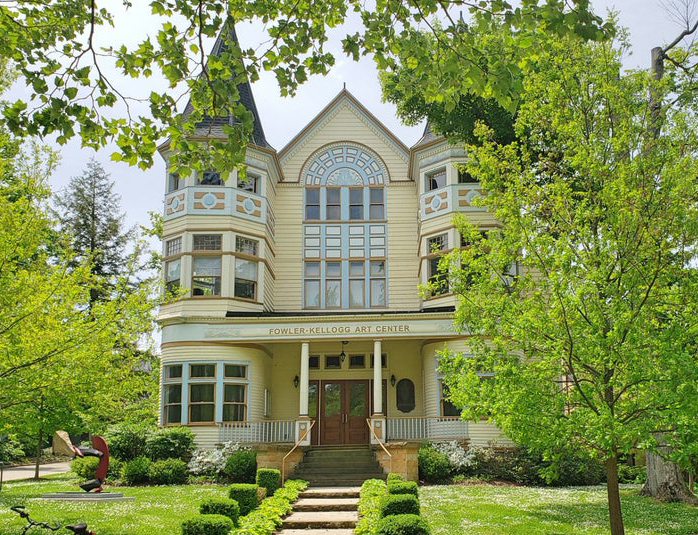 CVA Galleries Internships
In addition to our year round staff, CVA Galleries partners with several universities to provide paid summer internship opportunities within our galleries. Click HERE to read an interview with Erin Magnan, one of our 2022 Gallery Assistants from Ohio University.
Subscribe to Our Newsletter
Contact Us
For inquiries, comments, and acquisitions, please feel free to contact us any time. We welcome your input and conversation.