June 18*–August 20, 2022
Every participating artist in the Chautauqua School of Art is invited into the richness of our distinctive, intergenerational visual arts program that offers a range of opportunities we call the Chautauqua Visual Arts (CVA) experience. We welcome participants age 21 and older to engage in a mentored, intergenerational, inclusive, and open experience that promotes possibilities through experimentation and expansive creativity in a brave space.
Our signature residency program is a 7 week program, with *the option of renting studios the week before and two weeks after for a nominal fee to ensure an extensive total 9 week season at Chautauqua Institution.
Student Handbook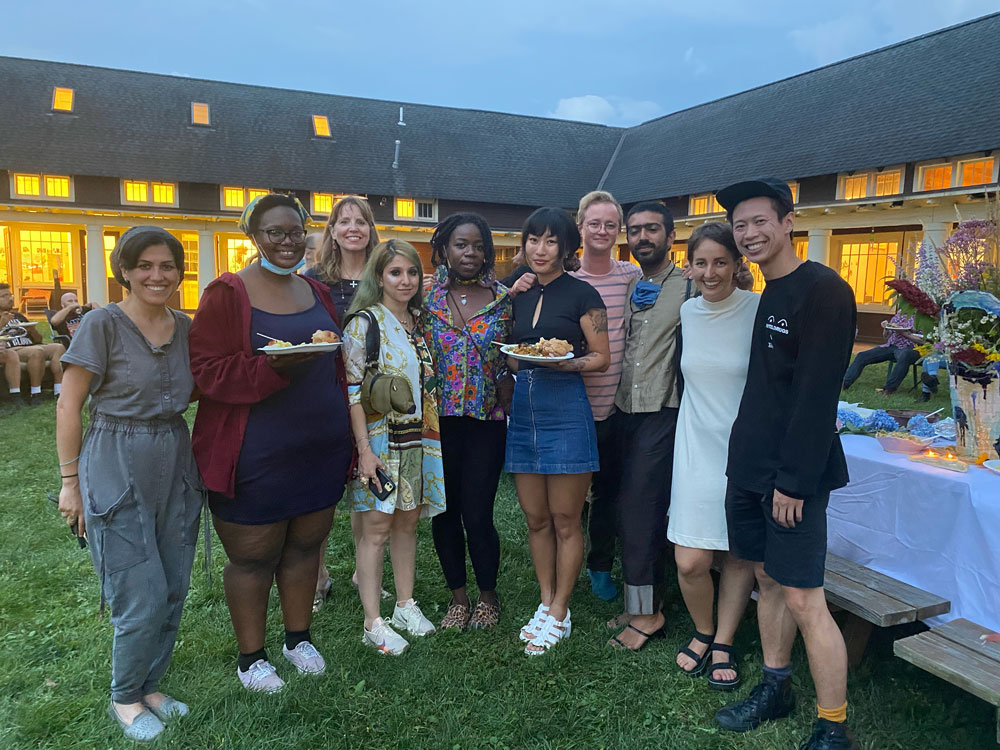 The Chautauqua School of Art residency program is centered on working with thought leaders in small and intimate group settings which emphasize one-on-one conversation. Because all mentors wear multiple hats as they engage in multiple disciplines, the residency program is open to all without any media or educational restrictions. If you are creative, curious, hard-working, and generous, we are interested in having you. We welcome experimentation and research coupled with group participation toward self-reflection.
Our residency program centers on the artist rather than production of artwork of any completion.
In addition to working with exceptional artists, critics, curators and the like, a residency at Chautauqua Institution offers access to all of its incredible programming, including lectures, events, and more.
Participants in our program will interact with lead faculty who are in residence over the course of the residency and visiting artists that come for short stints throughout seven weeks. In addition, we have a vibrant lecture series with visiting artists sharing stories, their histories and commentary on issues of the day. The schedule for visiting artists, lead faculty and speakers will be posted on a calendar on this website at the time of registration.
Each participant artist receives a partitioned studio space with 24-hour access to their studios and all facilities at the School of Art. They also have 24-hour access to communal studios in painting, drawing, printmaking, ceramics and sculpture. Each participant is required to work with at least two lead faculty of their choice 3 hours a week in group sessions and have the option to sign up for one-on-one conversations. As our program emphasizes community, we also ask participants to be a part of group conversations, lectures, pop-up talks and meetings.
CVA offers the opportunity for the kind of sustained and focused time for research, experimentation, engagement, intergenerational interaction with different fields in the arts, art writing and performance that is not available in academic settings, but the program is not designed for everyone. Those who need continual instruction or who cannot work in a community setting may find the requirement for self-motivation and the enthusiastic nature of the program difficult to adjust to. But for those artists who think about their work 24/7 and are hungry to engage with exceptionally serious artists, collectively gather in a generous community, and a public who is eager to learn from and be inspired by artists, Chautauqua in the summer is an invaluable experience.
In addition, once we start a relationship with a participant of our program, we continue the support with programs that keep alumni connected and provide resources beyond their time with us. Check out our Alumni and Resources pages to see more.
Please see more information by clicking on the arrows below:
Here are some answers to frequently asked questions:
What are the dates of the program?
June 26–August 12, 2022. The program starts on Sunday, June 26 at 10 a.m. and we require you to arrive either Friday, June 24 or Saturday, June 25 to be sure you're somewhat settled before we start. In addition, for the first time, we will offer advanced use of our studios the week before (starting June 18) for only $100 in addition to free housing. There will be an option on the application if you wish to take advantage of this. You may also stay two more weeks with the option of discounted housing (unfortunately, we cannot provide housing for free after August 12) and $100 per week for studios through August 27.
Am I eligible to apply to the Chautauqua School of Art (SOA) residency program?
If you are 21 years of age or older, you are eligible to apply. No college experience necessary. If you are a SOA alumnus from 2019 to present, please wait 3 years to apply again. If you are creative and want to spend 7 weeks with us, apply!
What are the application requirements to apply?
See our application requirements and jurying process here.
Are collaborative teams eligible to apply and attend?
Yes, however, we ask each collaborator to apply separately and each person indicates on the application you are applying as one member of your team, naming the others on each of your applications. In addition, collaborators are expected to share a room together and fees are charged per individual in the collective (not one fee for the team).
What are the requirements to complete the residency program?
We require you to work with at least 2 mentors 3 hours each per week through 7 weeks, open studios, all of the visiting artist lectures and encourage you to attend many events Chautauqua Institution offers throughout the season. We also require group meetings as necessary, and just being present!
How is this program different from other residency programs?
We offer a unique experience to work with thought leaders in the visual arts as well as collaborative experiences with many art forms such as theater, dance and opera. We do not divide in any way: anyone who deems themselves creative can apply to our program. We are interested in working with artists who want to integrate further in society, sustain their creative lives and contribute to our community. We believe in the empowerment of artists and our mission is to make space for them to experiment, learn and absorb as many resources as we can share.
What kind of housing is available during the residency?
We offer dorm-like housing at Bellinger Hall where rooms are shared with other residents. You can request preferences. In addition, we offer suggestions of off-site housing for families. Unfortunately, we cannot cover the additional costs for any housing other than housing at Bellinger Hall. We welcome families to visit.
What kind of food will be served during the residency?
We have cafeteria-style food offered at Bellinger Hall for participants of all schools. Dietary requests are received and we try the best we can to meet them.
What kind of studios and facilities are available at Chautauqua?
You can see our facilities on our website here. Our studios are open and open to the public to visit. If you don't see something you need in our facilities, please inquire and we will assist in trying to accommodate your request.
Are the grounds available to use?
We welcome participants to use the grounds of the Quad which are vast. Participants may also seek permission to use other grounds at Chautauqua Institution for pop-up events. We also welcome collaborative experiences with Theater, Dance, Music and Opera and their facilities.
Why is there a gate and a gate pass required to enter?
Because there are many programs, performances and lectures that occur everyday at Chautauqua, there is a fee to enter on the grounds. However, the CSOA residency program includes a gate pass worth over $5,000 for the summer.
I just want to make work in isolation. Can I do that at Chautauqua?
If you want to be completely isolated, this residency isn't for you. We recommend artists who are community minded, open and want to share to apply.
Will I have any time to actually work in my studio?
Oh, yes! You have 24-hour access to your studios and facilities. In addition to all of the events, performances, sessions with mentors, one-on-one visits, you will have ample time in this intense 7-week residency.
Can I bring my family to Chautauqua?
Yes! However, your family will have to purchase gate passes to attend any programs.
What happens after I attend the Chautauqua School of Art residency program?
We continue to stay in touch as much as possible and give as many opportunities as we can to our alumni including returning to the CVA to learn to teach (especially for those who haven't had such opportunities) or work with us in our galleries as we are an incubator for growth and learning; share their work on our website, exhibition opportunities, events, share Alumni news, make connections and more. We believe in long relationships with our alumni and welcome them back to visit.
I have some questions that are not being answered here. May I talk with someone with my specific questions?
Of course! We welcome your questions! Please write to Chip McCall, our CVA Assistant Director at art@chq.org with your questions. If your inquiries are not answered, we would be happy to arrange for a time to talk with you on the phone. Please provide your telephone number when you email us. Thank you!
Please find more information on our program by pressing the tab button to the left of each topic. Happy reading!
Working with thought leaders

Our world-class, exceptional mentors meet with participants as a group for two two-hour sessions each week as well as private, one-on-one studio visits as needed and wished depending on the schedules of both the participants and the mentors. The mentors teach out of their own practices and each session is limited to 20 participants. Participants can work with as many and as few as two mentors for the entire season. This is a rare and unique opportunity to share and develop your work with thought-leaders and change-makers of today.

We have lectures on Sunday evenings at 5 p.m. EST each week of the summer season with various thought leaders in the visual arts to discuss the most relevant cultural topics in the arts today. These lectures include our annual Leon and Gloria Plevin Family Museum Director Lecture and our annual Alumni Lecture. Each lecture is free and open to the public, everyone is welcome.

Workshops & Demonstrations

Through the seven-week session, we offer community classes including ceramics, printmaking, encaustics, weaving, drawing, painting, landscape painting, figure drawing and more. We also host guest speakers to conduct one-day workshops that are challenging and engaging.

Participating artists will receive contemporary, nuanced, reality-based, peer-to-peer professional development workshops from Sharon Louden, Sydelle Sonkin and Herb Siegel Artistic Director, and guest speakers while at Chautauqua the first, middle and last weeks of the season. Past guest speakers include Ruby Lerner, Melissa Potter, Jen Dalton, Brett Wallace, Edwige Charlot, Christina Wong Yap, Sascha Gianella and more. This type of Professional Development includes adopting basic tools, however, the overall emphasis is community building and pragmatic approaches to sustaining a creative life.

Each season we start with an Artists-in-Residence exhibition. This showcases some of the art of the participants of our residency program. We also welcome exhibitions of many different artists in our galleries. You can see what we have to offer in our galleries here.

CVA encourages collaborations between different fields, schools, artists and disciplines. We encourage collaborative projects and experimentation. We have also developed partnerships with schools and museums to bring a diverse and talented population of students and emerging artists to the Chautauqua School of Art.

Pop-ups, impromptu gatherings, performances — experimentation in all forms is welcomed and strongly encouraged. Participants who attend the residency are encouraged to push boundaries and use resources at Chautauqua to discover more about themselves and their work. In 2019, we had our first Drag Show, mixers with members of the Chautauqua Theater and Opera companies, and gatherings with community members through our visual arts affinity group. In 2020, participants created their own newsletter, gathered virtually independently of the program and met with those who lived in their region. in 2021, Raheleh Filsoofi, one of our Lead Faculty members organized a community dinner with ceramic plates and bowls handmade by participants of our residency program and food collected and made by them as well. Check out our events page and our Instagram to see some of the past participants and gatherings.

Each participant of our residency program receives a partitioned studio space with 24-hour access to their studios AND all facilities at the School of Art. Facilities at the School of Art include a digital media studio, a full printmaking studio, a large drawing room, sculpture facilities including welding equipment, a full ceramic facility and large outdoor areas to stretch out and make work, experiment and feel free to have pop-up events. We have technicians on site to assist, too. To see more details about our studios and facilities, please click on to our Facilities page.

Estimated costs for this program in 2021 are:

$2,730 for tuition (access to Lead Faculty, Visiting Artists and Faculty who teach in the Masters & Enrichment classes, which are technical classes that are free for your learning pleasure)
$550 for your own room, sharing a bathroom with just one person
$975 for meal plan for five weeks (three meals per day)

The above costs total to $4,255 which also includes:

Your own studio space, access to all of the School of Art facilities and Chautauqua grounds, gate pass and registration fees. We also require a $250 deposit which is returned at the end of the season after a full completion of the program, no matter if our program is on-line, partially on-line or in-person.

FUNDING IS AVAILABLE. For information about funding, please see the Scholarships & Funding tab below on this page. Thank you!

Funding from CVA comes in the form of full or partial scholarships that are sourced from individual donors and institutional partnerships. Each person who receives funding must comply with work assistance and tasks such as basic chores, assisting mentors and staff, studio maintenance and other duties up to 10 hours per week at an assigned job. Participants who accept financial assistance and do not satisfactorily fulfill obligations will be dismissed from the program with no refund. All participants who receive full financial assistance are required to contribute to the full 10 hours/week.

We also require all participants who receive financial aid from an organization, school or various institutions, to share the pedagogy they have learned and their experience at CVA at the institution which contributed to their visit.

In 2019, for the first time in the history of the CVA, we awarded 36 out of 38 participants full scholarships, and in 2020, all 38 individuals received full funding. We welcome donors and partners to contribute to our need to fund participants, especially those who would not necessarily have the opportunity to join us. You can see our current list of partnerships here. If you are interested in more information or want to be a part of our Partnerships program, please contact the CVA Artistic Director Sharon Louden at slouden@chq.org or Chip McCall, the CVA Manager at art@chq.org. Thank you for your interest!

What They're Saying About Us

Click here to read about Chautauqua Visual Arts in the news.
Hear from former participants and visitors!
Contact Us
For inquiries, comments and acquisitions, please feel free to contact us anytime. We welcome your input and conversation.