Tree of Life #4
No Longer Available
Completed
2023
Medium
Marble on cherrywood
Dimensions
30" x 4" x 18"
Description
Working in marble and wood is meditative and subtractive, hard material means the resolution of form comes in a series of discrete steps. Each new layer building from and erasing what came before, I find the work to be complete once it requires nothing more from me. There is great joy in the effort of elevating rock from the crusher and wood from the burner into a finished piece of sculpture. In my science classes I frequently remark that trees and plants build themselves "out of the air" or "out of the blue." In the case of marble, ancient biological forms created limestone, which became the statue in front of you was formed from the seas and skies Earth millions of years ago. I hope you enjoy viewing it as much as I enjoyed making it. 
This work is part of an ongoing effort to examine physical form at a fundamental level. I am interested in what geometries exist at the foundation of our reality that we will never be able to apprehend and only imagine in our wildest dreams. It is possible that we are wholly unequipped to be able to ask the right questions, let alone understand the answers. 
There is a tactile dimension to this piece, so I would encourage you to gently touch the work, if you so desire. The piece is kinetic in that it is balanced on a brass bearing to allow a gentle spin.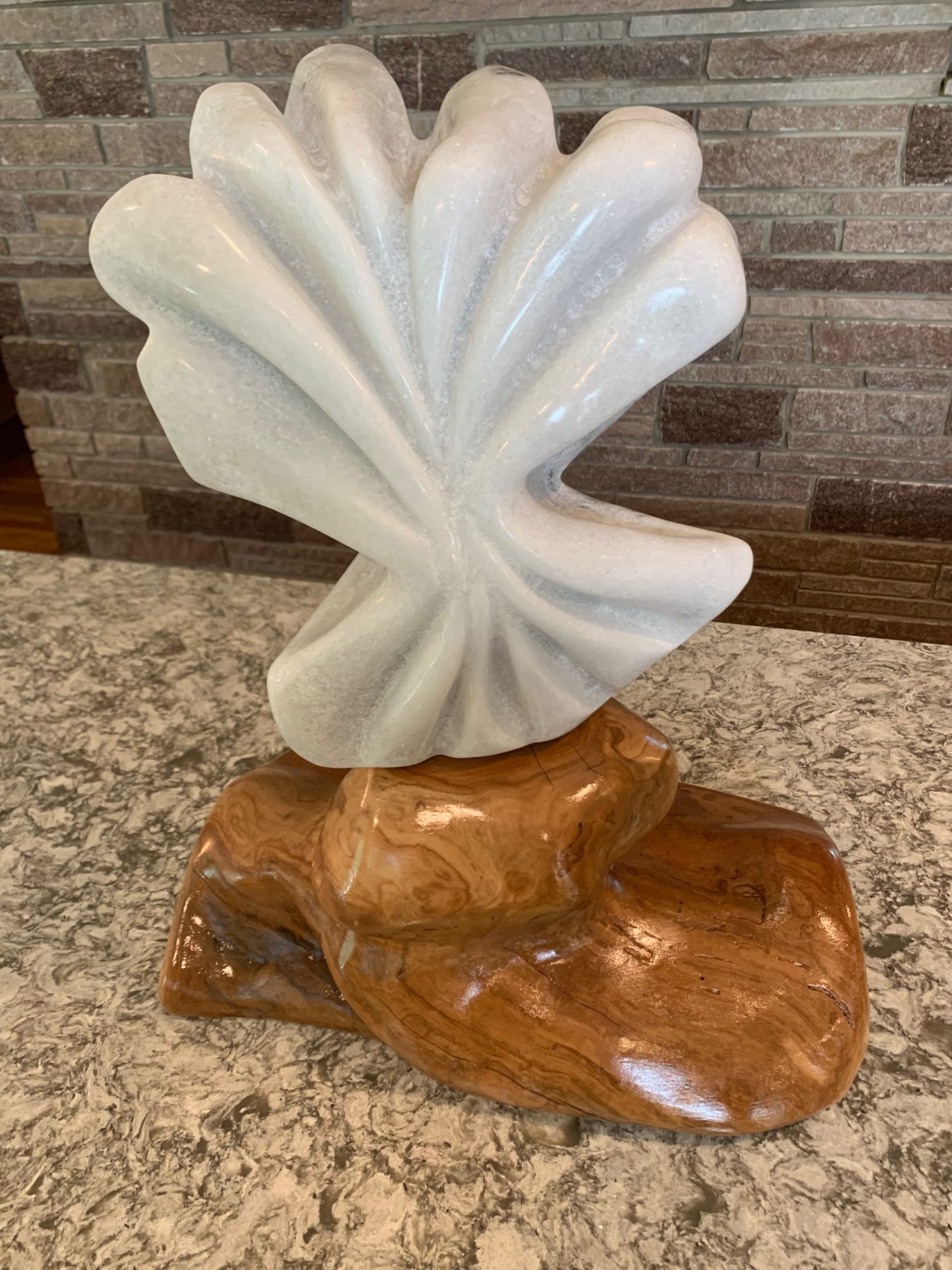 About this Artist
Eric Olson
Eric Olson in an Associate Professor at the State University of New York-Oswego teaching classes in science education and as well leading a studio art class examining science and art as complimentary modes of problem solving. Professor Olson's research interests range from effective pedagogies and curriculum models to the nature of consciousness and quantum foundation of reality. As an artist he produces work in a variety of media including paper, wood, alabaster, soapstone, copper, marble, serpentine and steel, with the primarily subject matter relating to science and math.
View Full Artist Bio
Contact Us
For inquiries, comments, and acquisitions, please feel free to contact us any time. We welcome your input and conversation.