Terraform Alchemy
No Longer Available
Completed
2022
Medium
Powder Casted Glass, Blown Glass
Dimensions
6" x 5." x 5"
Description
As a queer, gay Latino from Grand Prairie TX, I am inspired by intersectionality as well as communication/relationships. Exploring the strength in vulnerability is a key theme in my work. I believe that exposing yourself, the parts that are broken or fractured, is a strength measured by your willingness to grow. Understanding the   material flexibility and fragility of Glass allows for the utilization of the medium as a communicative device. Acting as both the container and the contained, Glass reflects the metaphorical expression of the self. I destroy in order to create; that exploration of creation reflects the labor it takes in understanding oneself. To effectively     communicate with the world around us, we must have the emotional intelligence to initiate that dialogue within ourselves. 
Creating experimental works that utilize pâte de verre, I build forms by       layering powder glass between layers of loose plaster powder. While pâte de verre is not new to the Glass World, this powder casting is an innovative way to recycle      materials. The manipulation of glass can be a rather wasteful practice. This process allows for me to reuse plaster/silica from previously fired works as many times as I am able to grind the material down to a particulate. Moving forward, we need to be more cautious of our waste and more mindful about our relationship to mother Earth. It is our responsibility as creators to think critically of our processes.
More grand than the Artist themselves stands their purpose. My understanding of Art is one rooted in the belief that as creators, we are modern-day alchemists. The manipulation of materials from one creation to the next, understanding intangible forces like emotion and thoughts, and creating work that connects us through experiences are all things that we learn by being artists. How successful we are is dependent on our ability to communicate, as well as how open viewers are to being influenced. I hope to enrich the world with insight and perspective that allows for communal understanding and growth.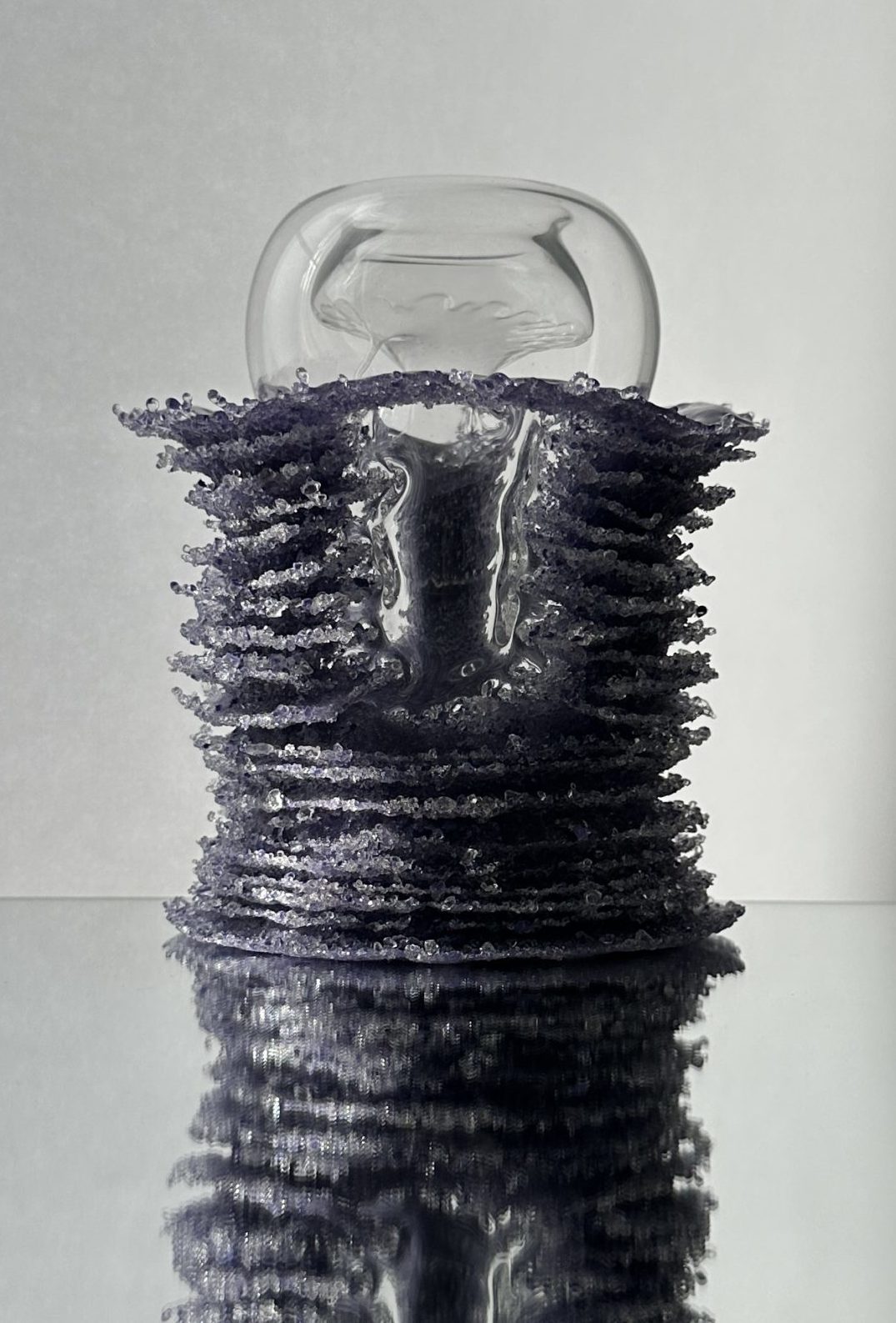 About this Artist
Guillermo Castañeda
As a a queer, gay Latino male from Grand Prairie, Texas, Guillermo Castañeda Jr finds that his intersectionality allows for the exploration of strength in vulnerability. He believes that exposing yourself, the parts that are broken or frail, is a strength measured by your willingness to adapt. He pulls inspiration from emotions as well as spatial construction. Guillermo was drawn to glass as a medium at the University of Texas at Arlington, when he took a break from Architecture in 2016. He hasn't looked back since. Currently working as an instructor for Dallas Glass Art, Castañeda continues to work towards his goals in life; to live unapologetically as himself and to be happy.
View Full Artist Bio
Contact Us
For inquiries, comments, and acquisitions, please feel free to contact us any time. We welcome your input and conversation.