Stellar Longing
No Longer Available
Completed
2023
Medium
Mixed media/ Acrylic on wood panel
Dimensions
24" x 24" x 1.5"
Description
"Most any desert shrub, cut
Right and support by enough stakes and wires, will grow
Into a tree. When it catches
Its reflection in monsoon puddles, 
Does it still see itself
As a bush?" – author unknown
Just beyond the thick brush of tropical plants and evergreen rubber plants, you catch a flash of blue. Blue Morpho butterflies flutter, but never too close. A ladybug brings you luck. The scent of citrus mixes with fresh spring Daffodils in the heavy, humid air. Within the window, warm candlelight flickers, inviting you. Have you been here before? From the outside, looking in; Stellar Hope.
Grabbing a bottle of frosted Amaro after supper, you walk by the window to catch a cotton candy sunset. Sparks of stars dance across the deepest blues where the sun is slowly saying goodbye. A hummingbird offers you a Blaue Blume and the sheer curtain flaps in the breeze. From inside, looking out; Stellar Longing.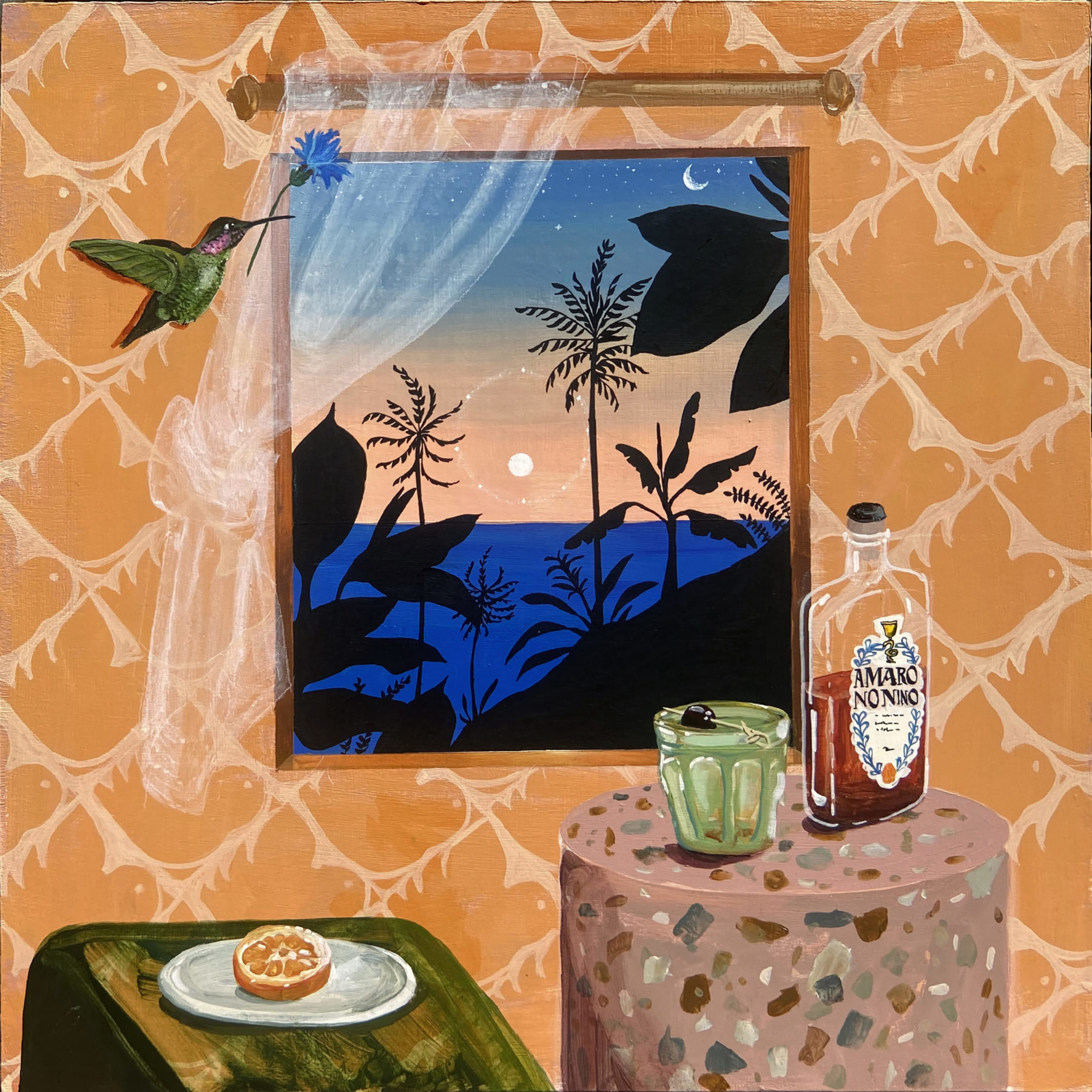 About this Artist
Tate Leone
Born and raised in Pittsburgh, PA, Tate grew up spending summers in Chautauqua with her grandfather. Working for Chautauqua Institution during summer 2017 was a lovely opportunity to connect with fellow artists and the welcoming Chautauqua community while exploring the beautiful Institution grounds. She has a BFA in Fine Art from Carnegie Mellon University and an Associates in Textiles from the Fashion Institute of Technology, New York. She studied at the University of Pittsburgh, Virginia Commonwealth University, and Chelsea College of Art, University of the Arts London.   While living in New York City, Tate created original print and textile artwork, color design, graphics, and product packaging for Marc Jacobs, Coach 1941, Victoria's Secret Lingerie, Roller Rabbit, and Anthropologie. She has worked on the runway and her work at Marc Jacobs was included in the 2019 MET Gala: Camp. Her fashion work and artwork are not dual practices; in fact, she…
View Full Artist Bio
Contact Us
For inquiries, comments, and acquisitions, please feel free to contact us any time. We welcome your input and conversation.