So I Guess We're Not Getting Our Jewels Back?
No Longer Available
Completed
2021
Medium
Steel; aluminum; oil on canvas; enamel; resin; light
Dimensions
6' X 4' X 9"
Description
My practice - which incorporates portraiture into large-scale metal sculptures - centers on the intersection of fashion, capital, and gender and post-colonial politics. As a Pakistani-American, Muslim, female artist who splits her time between progressive and conservative societies, my work explores how adorning one's body can be a feminist act of resistance: a reclamation of space; an assertion of one's agency. Through my practice, I reconstruct this agency, making it bigger and louder, wilder and more passionate.

 
As part of my on-going series - The Bling Series - I make heavily embellished yet industrial-looking sculptures based on, or referencing, jewelry. My artwork is inspired by jewelry that I own as well as pieces of jewelry that belong to my family. In addition to this, my work also references ancient articles of adornment that are a part of major museum collections world-over. The Series investigates jewelry as both an asset, and consequently a conduit to financial mobility for many women, as well as an object imbued with intergenerational feminine memory and power. The monumental scale of the sculptures is a celebration of said memory, power, and mobility. I use a diverse, texturally varied array of materials such as steel; bronze; mirror; fabric; gold leaf; and feathers. Building on my interest in how jewelry allows a woman to affect the ways in which she commands space, I play with weight, light, and shadow, to redefine the architectural spaces in which my work is displayed. Furthermore, to engage with the temporal quality of heirloom jewelry - as any one piece of jewelry is in conversation with history, the here and now, and the future - my sculptures illustrate the effects of time, either through natural or created rust, and materials such as dried rose petals.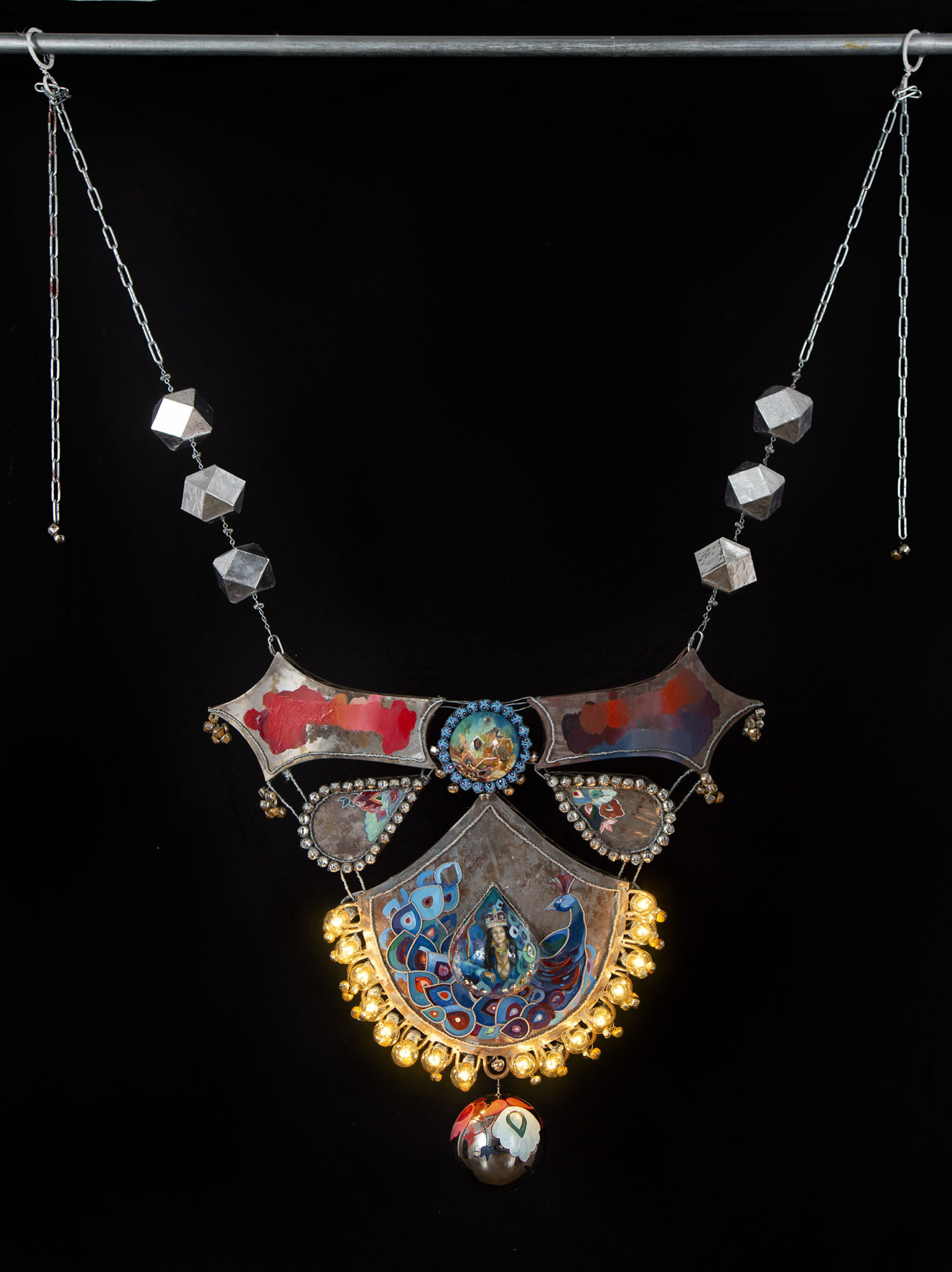 About this Artist
Seyhr Qayum
Seyhr A. Qayum (b. 1991) is a Brooklyn-based multidisciplinary artist, whose practice centers on the intersection of fashion, capital, and gender and post-colonial politics. Through combining large-scale metal-work with figurative drawings and oil paintings, Qayum's work explores how, when, and where, a woman commands and holds space – seen through the lens of history, memory, and culture. Qayum was born in Chicago, IL, and grew up in Islamabad, Pakistan. She has exhibited her artwork internationally, including in the U.S., the U.K., Pakistan, and Japan. She holds a B.F.A in Painting from Boston University, MA, and an M.F.A from the Pratt Institute in Brooklyn, NY.
View Full Artist Bio
Contact Us
For inquiries, comments, and acquisitions, please feel free to contact us any time. We welcome your input and conversation.