Mama's Braiding
No Longer Available
Completed
2022
Medium
Acrylic, gloss varnish and unfounded materials
Dimensions
24" x 30"
Description
This painting is a glimpse into a person of color's family life, in this case, a mother braiding her daughter's thick hair. This piece expresses my global travels abroad as this image represents the Caribbean and African countries I have visited. In any of these countries, if you get to intimately visit inside a person of color's home, you might see this scene in any household. The piece is mixed media, using acrylic paint, colored yarn, a comb and artificial flower. This mixed approach brings life to the piece and makes you feel like you are sitting on the vibrant colored couch along side the mother.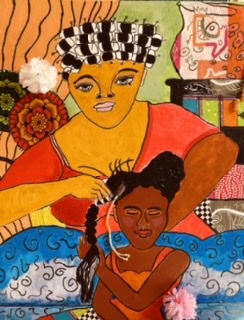 About this Artist
Kym Cooper
I hold a B.F.A. from American University in Washington, DC and a Master's in Elementary Education from Lesley College and a law degree from Howard University. I have been drawing and painting since I was in elementary school. I consider myself a multi-media surrealist cubist painter—one who creates scenarios that touch my spirit on canvas. I draw my inspiration from living in a Afro-American womanhood  and drawing from that passionate, hostile, nurturing, disturbing environment that has defined my cultural identity.  In Art, you can express all that you are without fear. You get to choose your medium and your substance. Your train of thought, spirit and ancestors guide your heart.
View Full Artist Bio
Contact Us
For inquiries, comments, and acquisitions, please feel free to contact us any time. We welcome your input and conversation.