Grewingk Glacier View 3
No Longer Available
Completed
2022
Medium
Oil on canvas
Dimensions
12" x 12"
Description
"This land is not a new or wild place. It is an ancient and gently cared for relative. You can feel its pull, for it wants you to become it."
--Melissa Shaginoff   
The beautiful and vulnerable place I call home, south central Alaska, is homeland to Dena'ina, Alutiiq and Sugpiaq people who have gently stewarded it since time immemorial.
I was raised to fish, forage and paint as a settler
on Dena'ina ełnena. As
I paint in water-soluble oils I often reflect, what story am I telling? Am I leaving a gentle mark?
Not far below the ocean's pristine surface lurks the indigestible damage of many oil spills. Summers are getting smoky, longer and warmer. Ice fields flanking Kachemak Bay glaciers are shrinking, like beached whales drying out. Least valued and most vulnerable, bogs and wetlands sequester carbon and sediments of ancient time at twice the rate of earth's forests. So much change and loss in a few hundred years. 
I paint with equal parts gratitude and despair, diving into the messy mystery of creation, confronting the void of blank canvas, and the soupy spaces of consciousness. Moments of clarity and purpose emerge as paintings. I find regenerative energy there.
About this Artist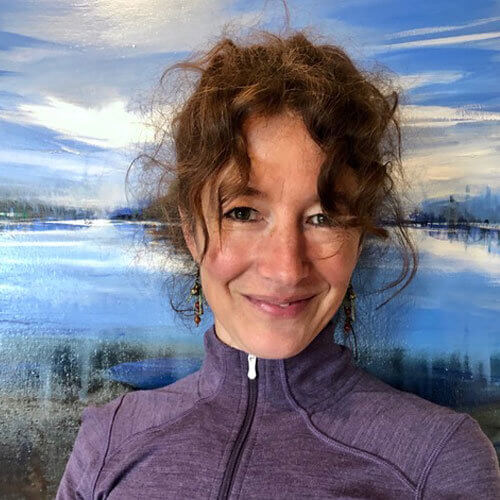 Asia Freeman
Born in Mexico, Asia was raised primarily in Alaska, wildcrafting, fishing and making art. After graduation from Homer High School, she received a Bachelor's of Art at Yale.  She took time off from college to volunteer in Costa Rica, explore Mexico and the Amazon, and live as a guest student at Green Gulch Farm Zen Center in California. To learn more about history and the narratives and images that shape human experience she returned to Yale, minored in Religious Studies and majored in Studio Art. She studied drawing with Bernard Chaet and Richard Reed, photography with Richard Benson and Jo Ann Walters, sculpture with Feliz Gonzalez Torres and Ronald Jones and painting with Richard Reed, John Hull, Richard Lytle and Susanna Jacobson, but her greatest teacher was her mother, the painter, Karla Moss Freeman. After college, Asia spent a year in India, volunteering within the Tibetan community in exile, studying…
View Full Artist Bio
Contact Us
For inquiries, comments, and acquisitions, please feel free to contact us any time. We welcome your input and conversation.