Fieldview
No Longer Available
Completed
2022
Medium
Oil on canvas
Dimensions
38" x 38"
Cost
SOLD
Description
I have painted plein air landscapes for years, working small and quickly to capture the scene as faithfully as possible. But larger canvases are a problem outside, so this one was painted in my studio. I didn't use a photograph, but instead used my imagination to create a compilation of my favorite places to paint.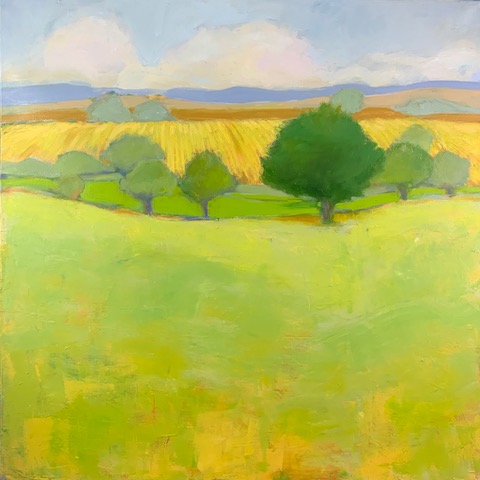 About this Artist
Sally Hootnick
As a painter based in Syracuse and Chautauqua, New York, I am deeply inspired by the natural world around me. My work explores both abstract and realistic representations of nature, often blending the two in unexpected ways. Drawing and text are also important elements in my paintings, adding a layer of storytelling and personal expression to each piece. I am particularly drawn to aerial views, as they offer a unique perspective on the beauty and complexity of the natural world. In my work, I strive to convey a sense of calm and healing through the use of organic shapes and soothing color palettes. Ultimately, my goal as an artist is to create work that celebrates the beauty and diversity of the natural world, and to share that celebration with others. Through my art, I hope to inspire a sense of awe and wonder in the natural world, and to encourage…
View Full Artist Bio
Contact Us
For inquiries, comments, and acquisitions, please feel free to contact us any time. We welcome your input and conversation.