Embodied Emissions
No Longer Available
Completed
2020
Medium
Iron oak gall ink, ink made from shells on paper made from sugarcane combined with shredded disposable plastic waste
Dimensions
61" x 92"
Description
This drawing contrasts the form of an oak tree growing just outside of the Denka chemical plant in Laplace, Louisiana, which is mirrored below the tree. The imagery blends together in the middle of the composition as the pipes intermingle with the roots and branches of the tree reflecting how the environment is being affected by the carcinogenic emissions of this refinery. According to the EPA's 
National Air Toxics Assessment
 published in 2015, residents near Denka's plant were determined to have the 
highest risk
 of air pollution-caused cancer in the country, 
nearly 50 times the national average
. On paper combining plastic with sugarcane, with ink made from oak galls and shells, this drawing examines how the legacies of exploitation of people and landscape from the time of colonization and plantations extends into our current petrochemical age.
Risograph prints are also available for $60, on view HERE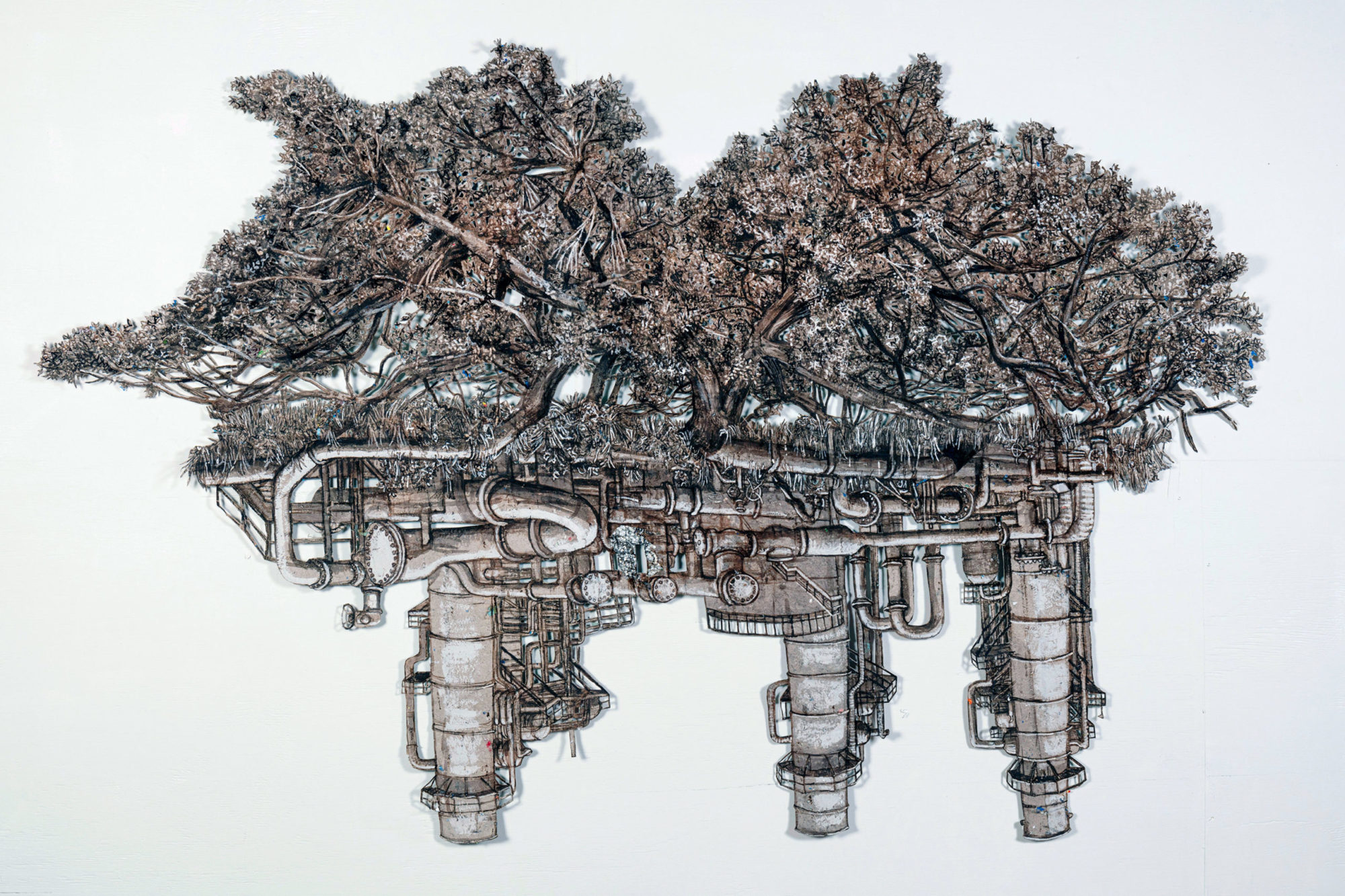 About this Artist
Hannah Chalew
Hannah Chalew is an artist and educator from New Orleans. Her artwork explores what it means to live in a time of global warming with a collective uncertain future, and specifically what that means for those of us living in Southern Louisiana. Her practice explores the historical legacies that got us here to help imagine new possibilities for a livable future. She received her BA from Brandeis University in 2009, and her MFA from the Cranbrook Academy of Art in 2016. Chalew has exhibited widely around New Orleans and has shown around the country at Popps Packing, Hamtramck, MI, Dieu Donné, New York, NY; Asheville Museum of Art, Asheville, NC; Acadiana Center for the Arts, Lafayette, LA; and other venues. Her work is held in the collections of the City of New Orleans and the Ogden Museum of Southern Art. Her work is included in two creative atlases by writer…
View Full Artist Bio
Contact Us
For inquiries, comments, and acquisitions, please feel free to contact us any time. We welcome your input and conversation.