Burrow
No Longer Available
Completed
2021
Medium
Digital Print, Limited Edition 1-5/5
Dimensions
14" x 14"
Description
In November 2016, I visited the Oceti Sakowin Water Protector encampment at Standing Rock. I joined a site-emergent, temporary collective that worked with camp leadership to create an "orientation" program to help educate, and make use, of the many non-Lakota new arrivals to the camp. These pictures were taken during the most populous moment in the life of the encampment. Ten thousand native and non-native supporters attempted to halt the construction of oil pipelines under the Missouri River, on unceded Lakota land currently occupied by the state of North Dakota. Surveillance drones operated by the private military contractor TigerSwan, and by Energy Transfer partners, the company constructing the Dakota Access Pipeline, flew overhead incessantly, capturing our every move. On the ground, photographs of individuals were discouraged, due to this persistent surveillance, and the known presence of FBI infiltrators. I created a series of digital photographs which I kept in my archives for a planned period of five years. Recently, I returned to these images and composed a series of fractured, digitally printed assemblages that reflect the textures of collectivity and contradiction embedded within the landscape and the daily rhythms of the sprawling water protector encampment. Mni Wiconi. (Water is Life.)   Fifty percent of all artist proceeds will be donated to the Lakota Law Project, a Lakota-based legal collective that continues to fight the Dakota Access Pipeline.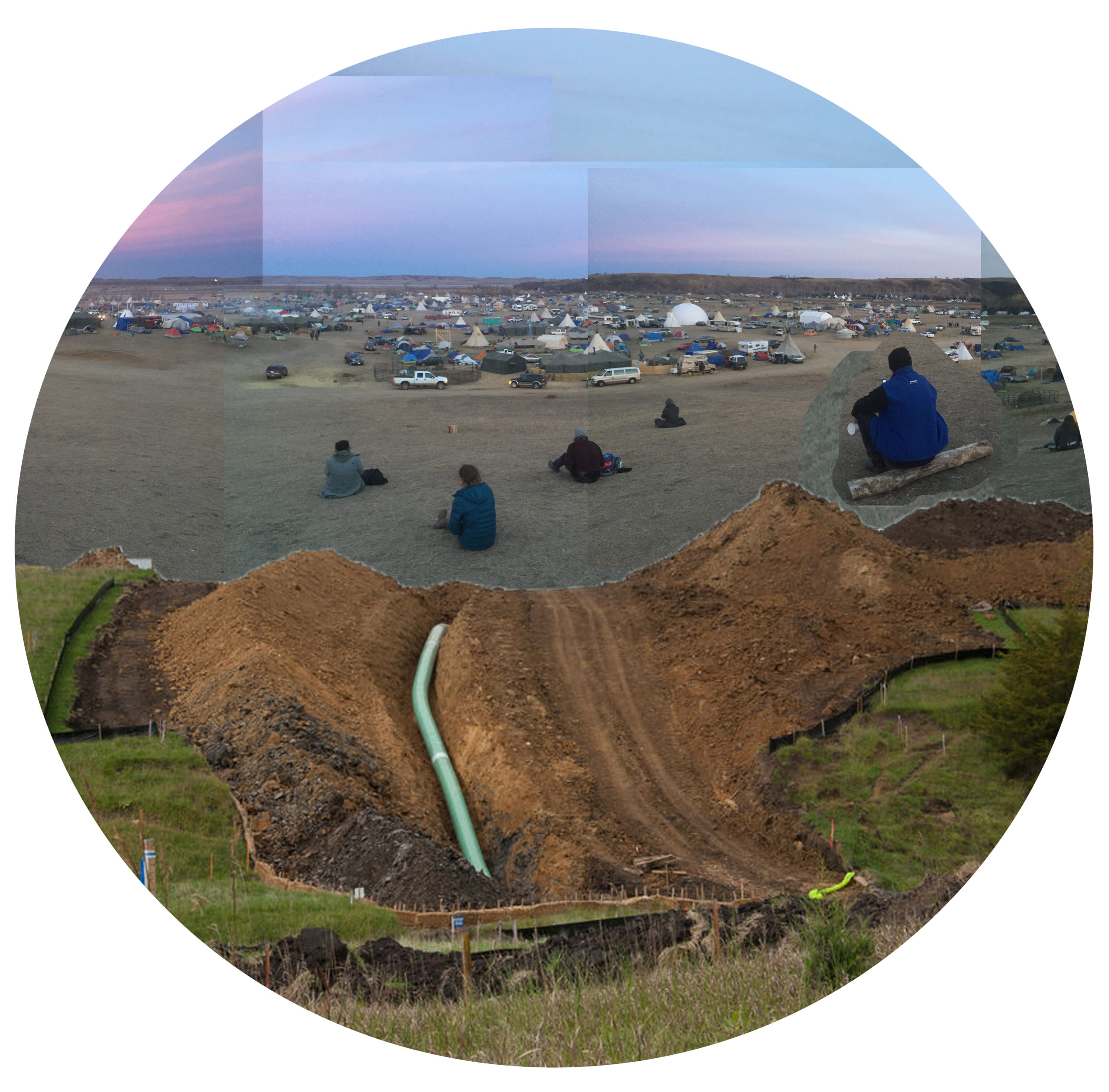 About this Artist
Paper Buck
Paper Buck is a writer and visual artist who uses painting, printmaking, collaborative research, and organizing to amplify decolonial, anti-racist, and environmental justice movement discourses. Recent projects use cross-disciplinary and place-centered research to critically explore settler constructions of conservation, ecology, and the "American Landscape." Paper recently received his MFA from Carnegie Mellon University and earned a Bachelor's in Studio Art from Macalester College in 2008. Past activism has focused on anti-racist education, decolonial organizing, and transgender justice, and included leadership roles within the Transgender, Gender-Variant and Intersex Justice Project and The Catalyst Project. Paper was the former Printmaking Studio Manager at Kala Art Institute. Recent exhibitions include Counterpressures, The Carnegie Museum of Art, Pittsburgh, PA; To Remember and Forget, Miller Institute for Contemporary Art, Pittsburgh, PA; The Self, Realized: Queering the Art of Self-Portraiture, Brew House Association, Pittsburgh, PA; It's A Long Story I'll Save For Later, The Powder Room, Pittsburgh, PA; Today Descends From Yesterday, Turpentine Gallery, Oakland, CA;…
View Full Artist Bio
Contact Us
For inquiries, comments, and acquisitions, please feel free to contact us any time. We welcome your input and conversation.