Tree Rest, Moss
No Longer Available
Completed
2021
Medium
Full color video and sound
Dimensions
10:10 min
Description
In this slow, intimate film dappled light flickers over velvety soft moss growing slowly on the bark of a fallen tree in the middle of the forest. A woman wears a handmade costume of textured knitted fabric fashioning an assemblage of moss-like forms across the body. Moss growing on the bark of a fallen tree offers a symbol of hope for future life and potential pleasure after loss and death. Dancer Aria Roach lies on the fallen, moss-covered tree, utterly relaxed, connecting with the energy of the shady forest floor in the Eagle Rock Reservation, in New Jersey, part of unceded traditional territories of the Lenape nation. Tree Rest is part of series of photos and videos featuring resting on felled and fallen trees during the pandemic lockdown and reflecting on the lack of rest during periods of intense caretaking. While we take a moment to lay with these felled and fallen trees, we offer them comfort in their final rest.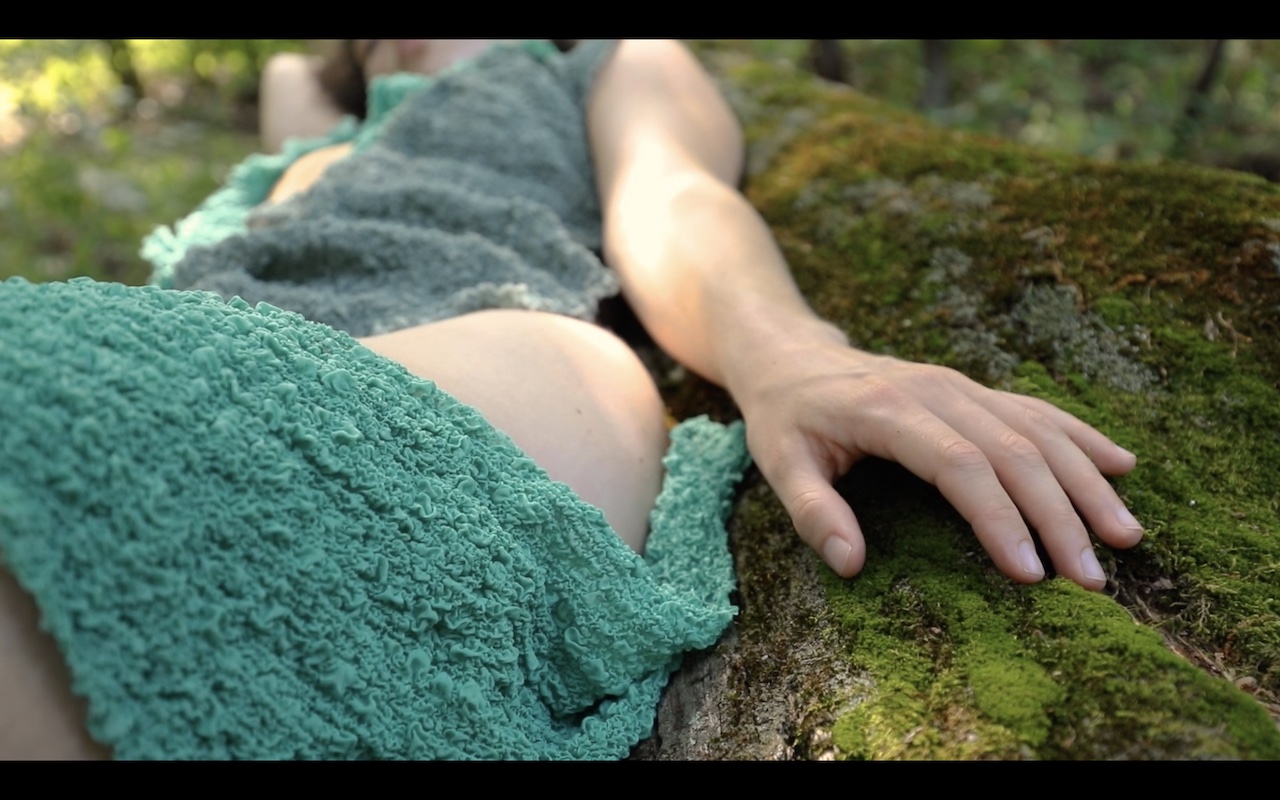 About this Artist
Gwen Charles
New York based multi-disciplinary artist gwen charles (b. 1975) interjects the performing body, often her own, as an exploration of the female experience in live performances and videos interweaving sculpture, video and movement. Performances, often in alternative spaces, take inspiration from everyday objects, dreams and historical references, merging elements of reality and magical realism. Her installations include handcrafted wearable objects and textiles, capture the moving body through space in digital video and photographs. Collaboration with dancers, performers, and objects is an integral part of the studio practice. Her works have been viewed in across the U.S., and in international venues and video festivals in Germany, Slovenia and Croatia. She has participated in artist residencies in the U.S., Mexico, India, and Slovenia. She completed her MFA with Transart Institute, Berlin, Germany, and undergraduate studies at Parsons School of Design & The New School for Public Engagement.
View Full Artist Bio
Contact Us
For inquiries, comments, and acquisitions, please feel free to contact us any time. We welcome your input and conversation.