Rolling Calf
No Longer Available
Completed
2022
Medium
oil, charcoal, common nail, cosmetic jewelry, textile fabrics, adorned liquor bottles, terracotta
Dimensions
72" x 60" x 12"
Description
My current studio practice is grounded in exploring African spirituality brought to the Caribbean through the middle passage. In installations and assemblage, I use the found objects as memory retainers, with the possibility of rebirth accessed through a series of interventions that I use to create impromptu altars, "Vessels of Resistance and Healing. "

 
Iconographic imageries are synchronized votives and repurposed objects such as wooden drawers, chairs, and shelves. Creating architectonic forms consisting of subtle shifts of tones and textures.

 
I gathered and assembled these objects by sacking to create renewed forms. Acts of tying, breading, draping fabrics, collaging images, beading bottles, drawing, and painting become ritualized. The objects act as portals to my subconscious mind to infuse memory and meaning into the space, matter.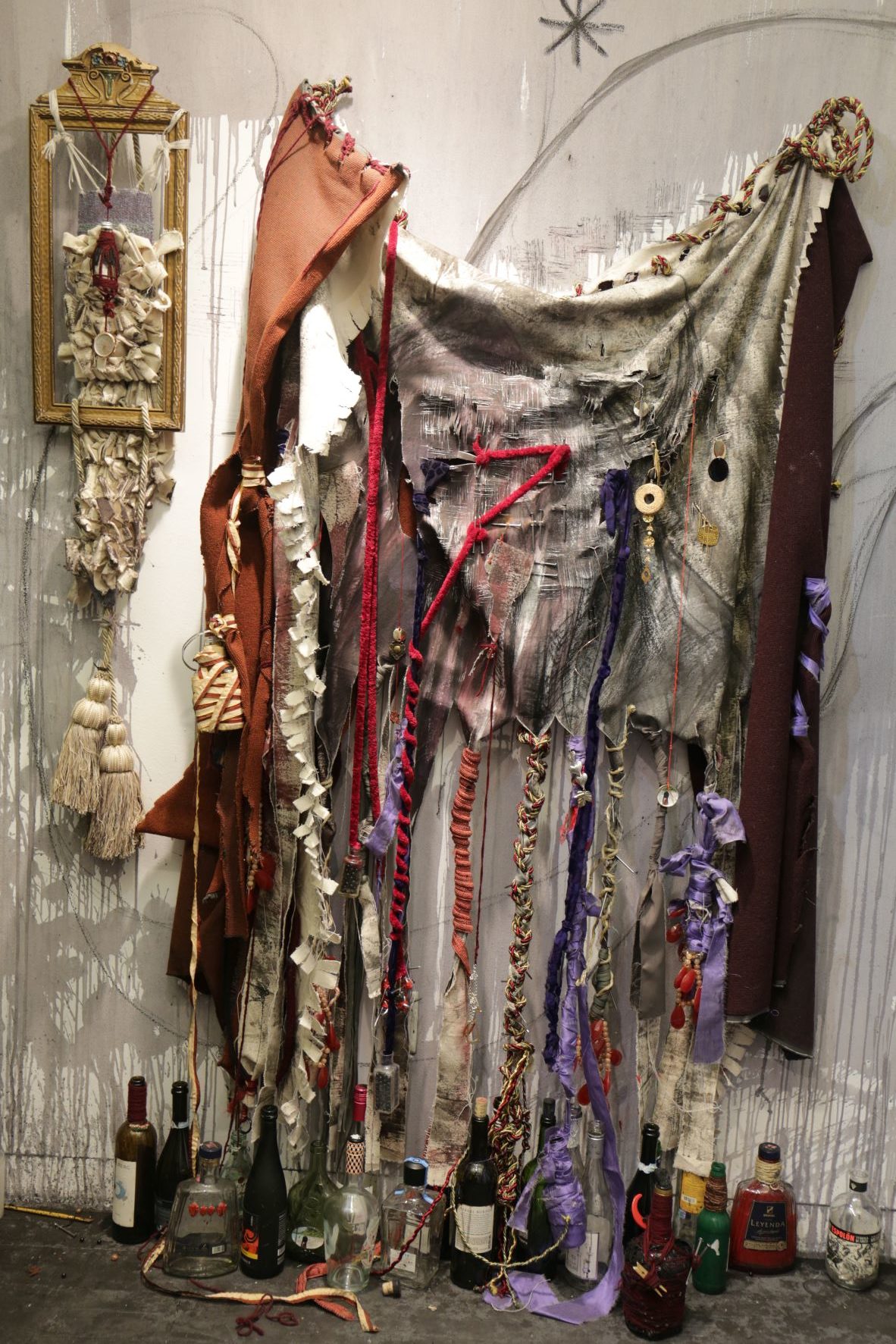 About this Artist
Xayvier Haughton
Was born in St Catherine, Jamaica, in 1986. He completed his BFA at the Edna Manley College of the Visual and Performing Arts in 2014 and is currently enrolled at the School of Visual Arts New York. His final year project explored issues around Jamaican fatherhood and masculinity. His work was featured in the Jamaica Biennial 2014and 2017 and the Jamaica Cultural Development Commission (JCDC)'s National Visual Arts Exhibition and Competition in 2015, as well as at the Red Easel pop-up gallery in 2016 and was a part of a three-man exhibition Dark matter at the CAGE Gallery. Haughton's work is focused on what he calls the "Afrikan" consciousness and Spirituality influenced by vodun culture. He is currently enrolled in the MFA program at School of Visual Arts New York.
View Full Artist Bio
Contact Us
For inquiries, comments, and acquisitions, please feel free to contact us any time. We welcome your input and conversation.