I brought you flowers V
No Longer Available
Completed
2021
Medium
Handwoven on frame loom, flowers, grasses
Dimensions
28" x 35"
Description
I brought you flowers series is about love, heartache, the ephemeral and belonging. Picking flowers has been a favorite pastime of mine and the flowers I pick are always intended for someone else as a gift, a romantic gesture, or an expression of sympathy. Every morning during my time at Chautauqua, I picked flowers for myself. I walked barefoot before the sunrise and carefully uprooted the abundant summer flowers, grasses and herbs. At first, I felt self-conscious and cautious. As a person of color in a majority white affluent spaces I felt out of place to pick flowers in people's yards or around their homes. However, theses flowers don't have owners, they grow to be admired, to bring beauty, and eventually, die. Bringing myself flowers every morning helped to feel comfortable in my own skin. In bringing myself flowers, I felt in kingship with the flowers and herbs I picked: uprooted and transformed into something else. In bringing myself flowers every morning, I started to forgive myself and give permission to heal from heartache. It is a gentle reminder that somethings may die or wither away but will leave an everlasting imprint with no set owner. I brought you flowers As you were sleeping dreaming of a better life, I laid restless. I caressed your face and wondered, will I be invited to the future you have envisioned? So, I decided to bring you flowers –the wildest of them to adorn your head I toppled through clovers and wheatgrass and kissed the morning dew as I picked one by one He loves me He loves me not I baptized my sins in muddy waters, hoping the moon and stars will forgive me for scaring Love away. Today, I sought company in Japanese maples and blooms of lavender to heal my swollen feet from the toxic waste I've been dancing in. I bring you flowers to remind you that this is temporary, and that starting today these flowers will always belong to you.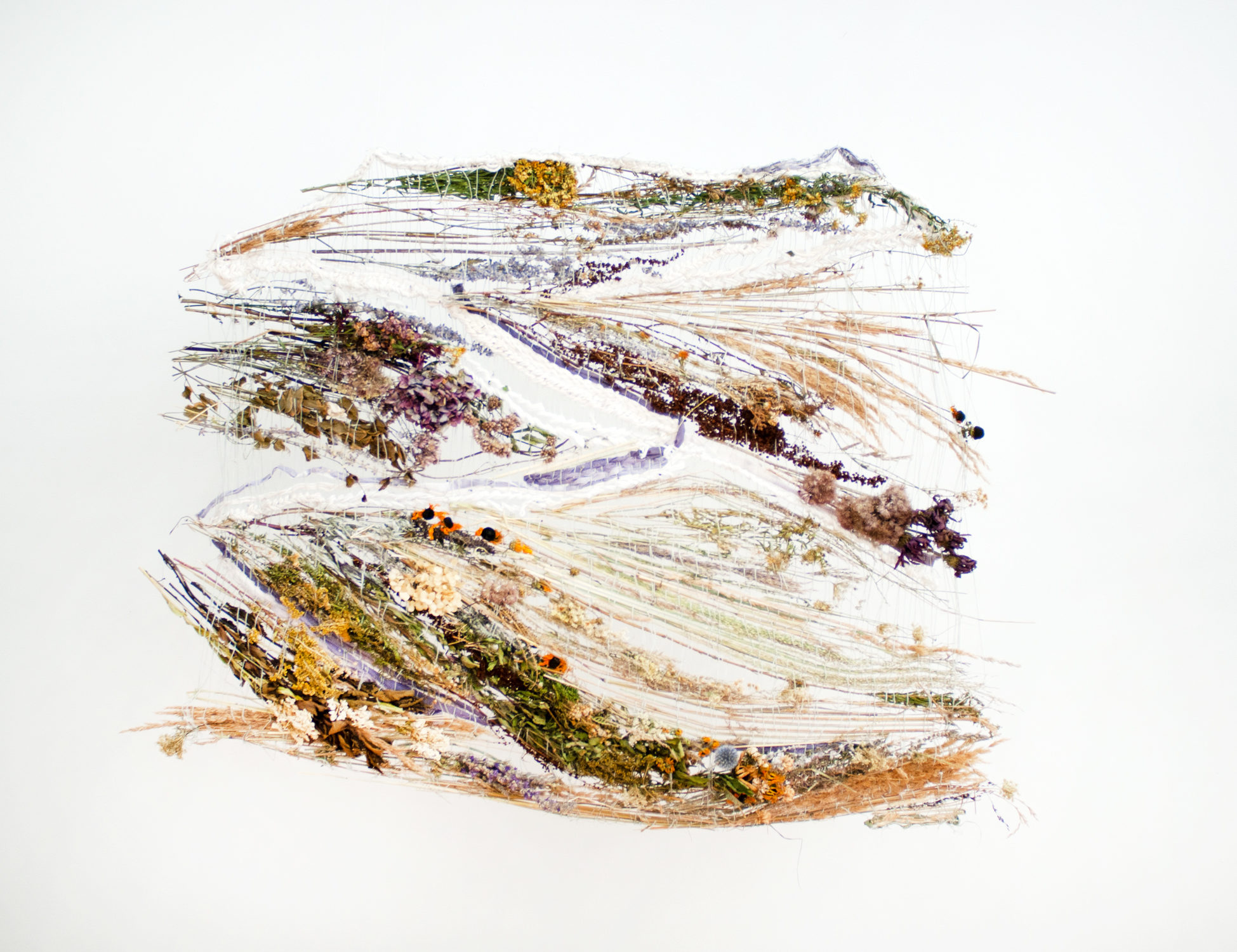 About this Artist
Jessica Elena Aquino
Jessica Elena Aquino (she/they) is a fiber interdisciplinary artist, educator, and poet from Santa Ana, CA currently based in Brooklyn. Aquino uses improvisational weaving, sculpture, and the use of childhood & cultural objects to navigate her (dis)connection to familismo, home, love, land, and labor. Aquino intertwines poetry, plant dyeing, and biographical & historical research, to provide a space of healing. She sits in discomfort in unweaving forms of heartache, intergenerational trauma and finding catharsis by working with the earth itself. Jessica Elena Aquino (b.1991) earned her B.A in Studio Art in Painting from Colgate University in 2014 and an MFA at the PA Academy of the Fine Arts in 2019. Her work has been exhibited at the Barrett Arts Center in Poughkeepsie, NY; Da Vinci Art Alliance; Philadelphia; PA, The PA Academy of the Fine Arts; and Anna Zorina Gallery. Aquino has been invited to participate in Manufactured Narratives at the Urban Institute for…
View Full Artist Bio
Contact Us
For inquiries, comments, and acquisitions, please feel free to contact us any time. We welcome your input and conversation.