Habitat
No Longer Available
Completed
2019
Medium
Acrylic on canvas
Dimensions
24" x 48"
Cost
$6500
Description
This series is a eulogy to all the house plants we've killed, and also a reflection on the relationship among human, nature and technology. Being inspired by retro wallpaper patterns, the green plant here symbolizes nature, vitality, and endurance. The pot-like imagery representing human impact is supposed to relate to the plant, but their connection looks awkward and discordant. As a metaphor of technological supremacy, the sci-fi-like background is processed as color blocks without any sign of life, even without shadows of the plant. While the painted surface is very much machine-like, it is done with traditional application of paint by brush. This laborious human touch is an analogue mimic of digital manipulation, like photoshop cutout in collage, as well as a self-deprecation to pretend like a machine. Living in technology dominated age, we desire nature as we use printed floral images on retro wallpaper: human paradox of using the artificial to heal longings for the real. Is technology benefitting or destroying us? Is technology building or destroying the nature? As part of nature, is human becoming obsolete? Or is human perception of nature being distorted? With ongoing automatization, is it really happening that free-willed human has been dominated by programmed instructions? Tones of questions could be asked.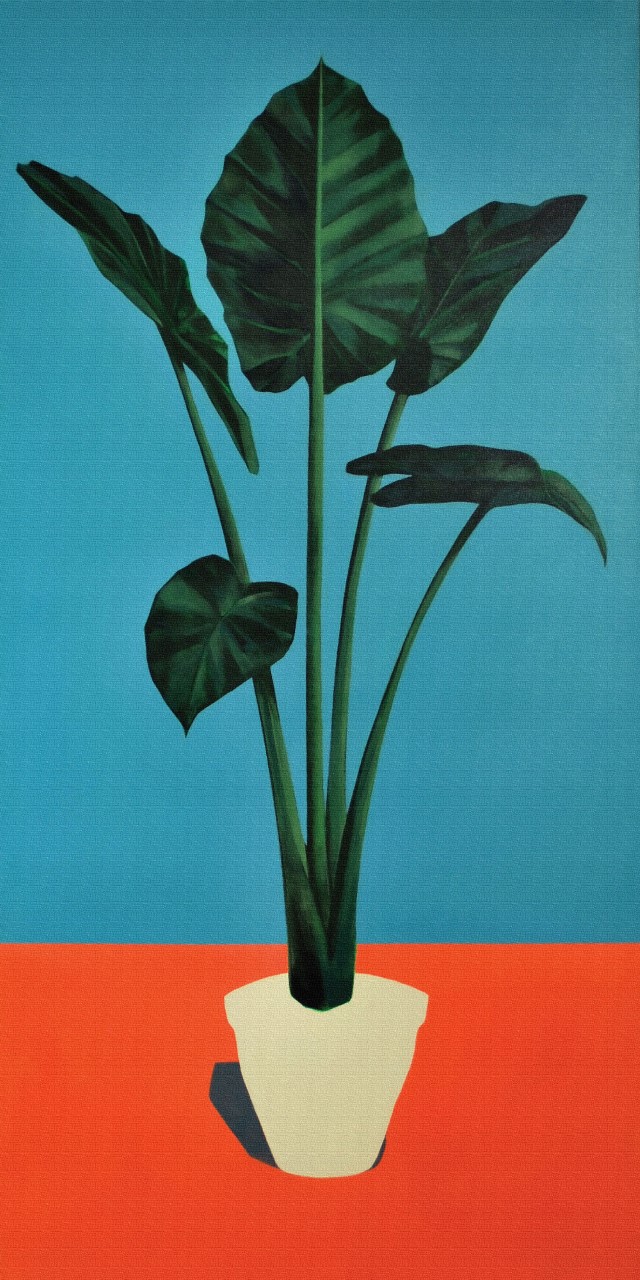 About this Artist
QiuChen Fan
QiuChen Fan was born in Kunming, China. She received BFA in Drawing from Cleveland Institute of Art in 2015 with "Excellence in Drawing" award scholarship. After graduating from school, she started as a freelancer doing graphic design and illustration, while continued her art practice in home-based studio. QiuChen mainly works on stretched canvas with acrylic paint in recent years. Being inspired by collage art and graphic design, she's now focusing on a machine-like painting practice without stroke-marks. She considers art as a routine of meditation and the role of an artist as an observer. Through a way of exploring compatible contradictions, most of QiuChen's works talk about people and relevant topics such as environment, contemporary life styles, social behaviors and consumer culture. QiuChen is currently living in US.
View Full Artist Bio
Contact Us
For inquiries, comments, and acquisitions, please feel free to contact us any time. We welcome your input and conversation.